Garage door safety sensors are one of the main lines of defense against a garage door injury or accident. The moment they detect any movement, the garage door immediately retracts into a fully opened position. Without safety sensors, you'd be running the risk of having an unpredictable and unsafe garage door.
Of course, you only want the best sensors for your garage door's functionality. Finding the best of anything usually requires painstaking hours of research and budgeting. However, you can eliminate some of the superfluous steps of this process if you already know which garage door sensor brands to trust. 
5 Best Garage Door Sensor Brands
There are plenty of garage door sensor brands on the market, but you should only seek out brands with stellar, reliable reputations. Here are just five of the best garage door sensor brands currently on the market. 
1. Chamberlain 
The first three garage door sensor brands on this list will probably be familiar, and that's because the same manufacturers produce garage door openers. Chamberlain is unique from its competitors because most of its sensors are affordable and easy to install. Better yet, its most basic sensor products are compatible with brands other than Chamberlain. Finally, if you use Chamberlain's myQ smart garage door opener system, you can keep track of the state of your safety sensors from your phone. 
2. Genie
Genie is another brand in the garage door industry that produces openers and sensors.  Like Chamberlain, it is also easy to install and reasonably priced. What makes it stand out, though, is that some of the sensors it manufactures include a self-diagnostic feature. The Safe-T Beam sensors, in particular, have their own replacement kits, so you can easily switch the old ones out for the new ones at a moment's notice.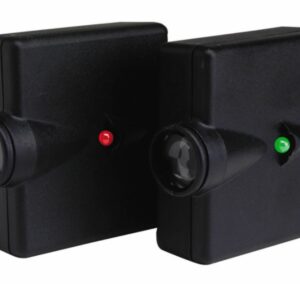 3. Liftmaster
As far as garage door sensor brands are concerned, Liftmaster is also one to watch. Most sensors manufactured by Liftmaster are notably durable, even when faced with extreme weather conditions. Just like with the previous two brands, the installation process can be undertaken with a DIY approach with Liftmaster garage door sensors. 
4. Garage Stop
Now it's time to look at some lesser-known garage door sensor brands, starting with Garage Stop. Sensors from Garage Stop are compatible with a wide range of other opener brands, including the big three listed above. Sensors from this brand also tend to bring many technological improvements that your old sensors lack. 
5. Digi-Code
Finally, Digi-Code sensors are also compatible with nearly all of the major garage door opener brands. As for what makes this brand unique, mounting brackets are included in the packaging, simplifying the installation process. The non-polarized lenses also make this product easy to install since you won't be likely to accidentally install them in the wrong direction. 
Our Team Will Help You Find The Best Safety Sensors For Your Garage Door!
It is not easy to find the best safety sensors for your garage door. We hope that by providing insight into five of the best garage door sensor brands, your search will be less time-consuming. Each one brings its own benefits and drawbacks, so you need to determine which one will ultimately make the most sense for your garage door. After all, you'll reduce the likelihood of garage door-related accidents when you install the correct safety sensors for your garage door. 
While installing these sensors is usually easy, it is understandable if you would rather entrust a professional to do it. The good news is that if you live in Baytown, Texas, you already have access to the best garage door technicians in the city. Contact us today, and we will get your garage door sensors in shape!