Many people are fine with a basic, boring-looking garage door. It's neutral, doesn't draw too much attention, and gets the job done. But if you aren't that person and would much rather personalize your garage door to best represent who you are, you should look into getting a garage door panel installation. 
This will be a great way to add a unique touch to your home's exterior, improving its curb appeal. This is an affordable way to transform that mundane garage door of yours into a stunning head-turner. In this blog post, we'll explore the possibilities of customization through garage door panel installation, so you can unleash your creativity.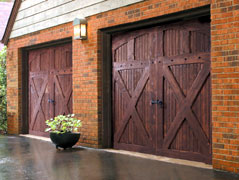 Customization Through Garage Door Panel Installation
Whether you're adding stickers to your laptop, decorating your bedroom, or customizing a garage door, you can express yourself and showcase your personality in various ways. The freedom of customization gives you the opportunity to make a statement. Do you want to go the elegant route to showcase your stoic demeanor? Or do you prefer something more flamboyant to liven up the joint? You can find out the answer by reading the following:
The Materials
There are many styles and customization options available, but it all starts with the material you choose. The traditional wood material is always a safe option that adds a warm and familiar aesthetic to a home. You can also go the steel route, which will give you a low-maintenance material that comes in many finishes. And we can't forget to mention the rust resistance of aluminum material. This material comes in many colors, making the customization overwhelming but invigorating.
Panel Styles
With all the unique panel styles available, you may not even need to add your own personal touch to the mix. You can choose a reclaimed wood panel for a more rustic and timeless look. You can have a more modern look with full-view glass panels, allowing in more natural light. There are also raised panels to give your home a classic and elegant look, rich with textures.
But it doesn't stop there. If you would like to add your touch to one of the panel styles, there are endless possibilities before you. The color and finish of your garage door panels play a significant role in enhancing its overall aesthetic appeal.
You can have a smooth, textured, or glossy finish added to the panel. You could also go with a bold color or an earthy and more grounded one. These options will elevate your garage's appearance and complement your home.
Call Garage Door Repair Baytown TX
Customization through garage door panel installation has many benefits beyond just aesthetic appeal. With better materials, you can improve the functionality of your garage door. Insulated panels, for example, can help regulate the temperature inside your garage, making your space more comfortable. You can even get noise-reduction panels to gain a little more peace.
Personalize your garage door with any of the materials and panel styles mentioned above. You will easily be able to complement your home with the variety of colors and finishes available. You could also go a step further and add decorative hardware to your garage door to make it look more appealing.
But none of this would be possible without a team of expert technicians willing to install your garage door. The perfect team for you just so happens to be here at Garage Door Repair Baytown TX. Baytown has never seen such expertise, and you can see it for yourself by giving us a call. We have a variety of services available to you, including installation, maintenance, and repair. So don't hesitate to contact us if you require assistance.